BRASSERIE LE BODEGON: THE UNIQUE ATMOSPHERE OF A GASTRONOMIC BREWERY
Are you looking for a new environment to enjoy a great time with friends?
Are you a fan of home-made cuisine? Do you appreciate small dishes concocted with market produce? Then come to the Brasserie le Bodegon in Lourdes!
In a deliciously Parisian decor, you will enjoy the unique atmosphere of an establishment with one of the best menus in the region.
So talk about it around you and see you soon at the Brasserie le Bodegon!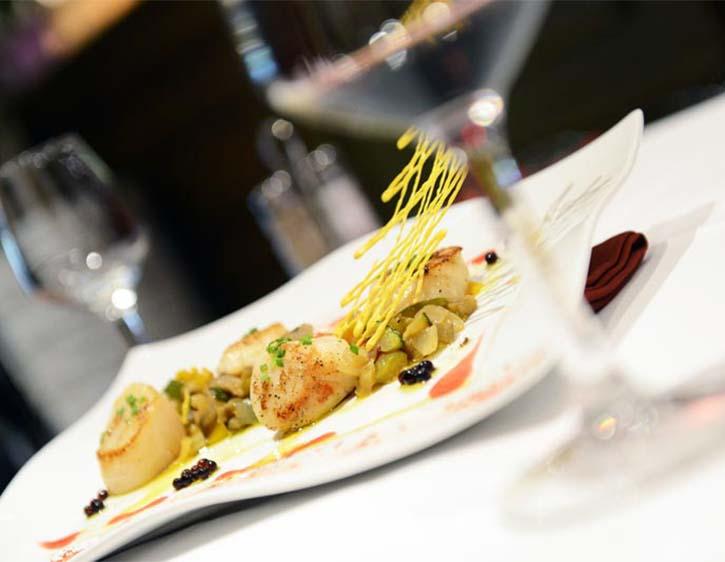 A unique atmosphere
When the owners of the Hotel d'Espagne in Lourdes imagined their project, they defined it as follows: "Create a restaurant space that combines both the aesthetics of the decoration, the quality and the freshness of the products, and service excellence. »
Today, this beautiful idea has given birth to a unique place in the region…
A deliciously Parisian decor
With a setting worthy of the capital's greatest brasseries, Le Bodegon brasserie plays the card of elegance and refinement around the "Popular chic" concept: red "Quai de Seine" velvet for the chairs, padded benches Chesterfield, ceramic checkerboard on the floor, pewter counter 100% handcrafted and made in France, furniture by Vauzelle, French designer and manufacturer, lighting fixtures with contemporary lines by Angelodesigns…
On the walls, paintings by great Hispanic painters such as Murillo, Botero or Picasso add to the charm of the place and contribute to creating here a true art of living, an atmosphere that is intimate, comfortable and joyful at the same time.
In short, an atmosphere where we like to meet to share a good time: a lunch with colleagues or friends, a romantic dinner, a gourmet snack for the simple pleasure of discovery…
SWEET PRICES… AND INVITING!
The brewery Le Bodegon in Lourdes, respect for the customer is an essential notion. This also requires the practice of reasonable prices.